Discover more from Frontline BeSci
All about the activation and application of behavioural science in the real world
Over 1,000 subscribers
Disrupting brand marketing
How the big challenges of our time are testing marketers
Change marketing: The need for marketers to wise up to behaviour change
Traditionally the behaviour change challenge for brands has been about making incremental gains by defending or growing share of the market, extending into new consumption occasions, encouraging purchase of premium options and so on.  To support brands attempting to make these sorts of incremental gains then we are well equipped.  Both in terms of established market research techniques but also 'nudging' which typically provide incremental changes in stable and predictable environments where consumers are familiar and broadly happy with the options being presented.
However, we are seeing something more significant happening.  It feels hard to think of a brand category that has not have been subject to a range of disruption – digitisation, climate change, shifting population demographics and now of course, COVID-19.  This has meant that the changes which brands are asking of consumers are no longer incremental but much more substantial.  For example, it may be related to changing the channel (move to online), the mode of consumption (e.g. from petrol to electric), a new business model (from shopping in store to subscription service) or perhaps consumer different ingredients (e.g. sugar to sweetener). 
So what does this mean in terms of the behaviour change challenge?  While incremental changes are familiar territory, it is a much more challenging job for a brand to encourage their customers to make a fundamental change to their behaviour.  For this reason, we need a discipline that is focused on just this task.  The field of 'Behaviour change' (also referred to as 'Implementation Science') is rapidly being recognised as the means by which to facilitate more challenging behaviour outcomes.
Established market research methods aligned with a Behaviour Change Framework (ours is called MAPPS) offers us a way to diagnose the determinants of behaviour.  This is essential to create strategies to shape outcomes (which may be as varied as advertising and pack through to service design and in-store layout). 
The implications of this for brand marketers are likely huge.  The traditional skills of gaining mental availability and facilitating access to your products are still table-stakes stakes but perhaps best suited to 'steady state' environments.  The skills needed to 'change marketing' are fundamentally different, being built around a much more holistic understanding of human behaviour. Marketers adoption of this discipline will, I argue, be critical for brands that seek to grow at this time.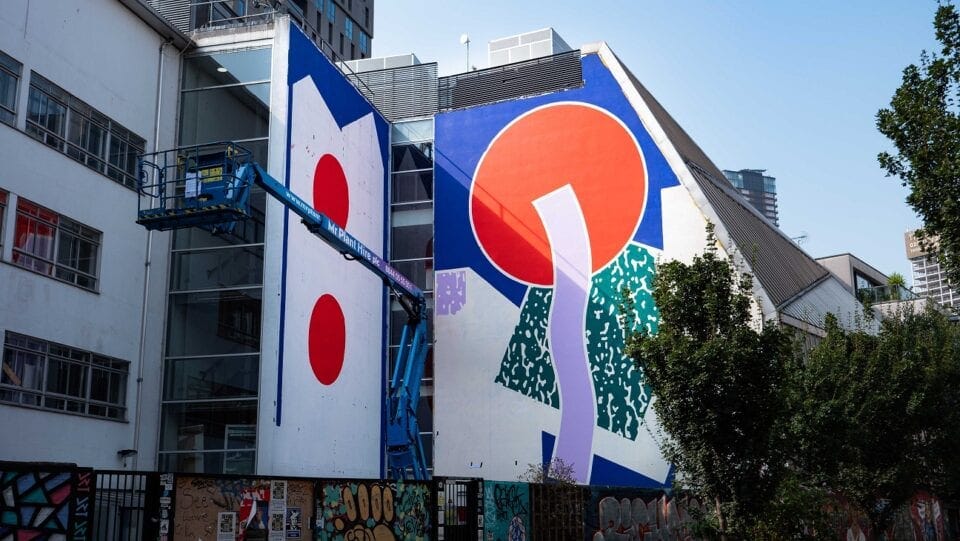 Pic of the week: Camille Walala transforms public spaces through bold colours, playful shapes and geometric patterns. This month, she brings her creativity to London Mural Festival (see Reads and Views below)
Purposeful change
A recent Ipsos study found 42% of those surveyed globally were making major changes to their lives.  When a major event occurs with the possibility of death, it is perhaps inevitable that we look for meaning in our lives.  It's with this in mind that I saw there had been a big increase in UK sales of organic food and drink.  To me this suggests we are aiming to live more purposefully, to enact our values through our behaviours (in this case living more healthily and hopefully in away that is kinder to the planet).  Time shall tell if this continues but I suspect that brands helping people enact their purposeful goals (rather than simply aligning with their beliefs and values) will be a huge issue over the course of 2021.
What caught my eye this week:
This article is a reminder why, in many markets, tackling conspiracy theories is going to be one of the biggest challenges facing behavioural science if it is to overcome vaccine hesitancy.
As we have massively moved online then we are seeing the way many hitherto face to face activities such as teletherapy —the practice of doing therapy via phone, video, or text – has mushroomed.  Sociologist Allison Pugh questions the degree to which digital channels allow people to 'be seen' – which then surely raises the question of the degree to which digital can either be designed to facilitate this, or how we design a multichannel strategy to mitigate these sorts of challenges.
For all those that are exasperated by evolutionary explanations of behaviour, I thought this was a compelling read with a load of great links.
Word of the week:  Social-cryptomnesia – which dovetails into a wider conversation about false beliefs.  The book The Knowledge Illusion is a great read on this; this article on pseudo-science is also very relevant, as is this article is on conspiracy theories. 
Reads & views
The London Mural Festival seems like the most COVID-friendly exhibition you can imagine and perhaps helps us understand the importance of  psychological effects of the way our cities are designed.
I have been rereading The Tyranny of Metrics – a really well written book on the dangers of moving from measuring performance to fixating on measuring itself.